The delivery of standard and workplace mental health first aid courses by the Anxious Paddler.
Register your interest to attend a two day training course: 
Contact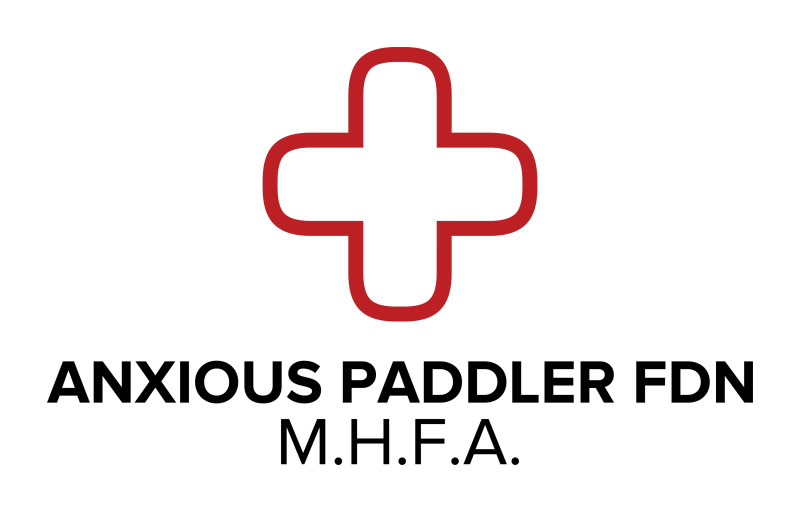 Developing mental health problems:

Anxiety problems

Depression

Psychosis

Substance use problems

Mental health crises:

Suicidal thoughts and behaviours

Non-suicidal self-injury

Panic attacks

Traumatic events
Severe psychotic states
Severe effects from alcohol or other drug use
Aggressive behaviours
To register your interest please  complete the
contact us
form.
​
Whats Covered?
What is Mental Health First Aid? (MHFA)
​Mental Health First Aid (MHFA) is the help given to someone developing a mental health problem or experiencing a mental health crisis until appropriate professional treatment is received, or until the crisis resolves. 

Mental health first aid strategies are taught in evidence-based training courses authored by Mental Health First Aid (MHFA) Australia and delivered by accredited MHFA Instructors across the country. The Anxious Paddler Foundation offers the standard 12 hour MHFA Courses as authored by MHFA Australia, delivered by an Instructors who is accredited by MHFA Australia.
During this time you will acquire knowledge and strategies to improve your confidence and skills in offering help to someone showing signs and symptons of a developing mental health problem or a mental health crisis.

Just like traditional first aid MHFA teaches an easy to remember "Action Plan" to enable you to support a person developing a mental illness or crisis. These skills are beneficial in the workplace and community.
 

The standard MHFA course is based on the international MHFA Guidelines. These guidelines were developed using a consensus of mental health consumers, carers and professionals from English-speaking developed countries. Further information
here
.
MHFA was developed in Australia by Betty Kitchener OAM and Professor Tony Jorm, an international renowned researcher in mental health literacy.
Interested?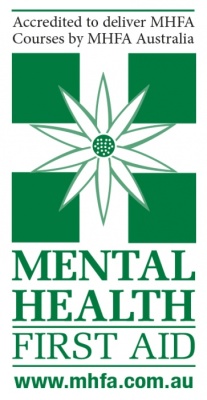 Betty Kitchener explains what mental health first aid is

Mental Health in the Workplace
91% of employees believe mental health is important (88% believe physical safety is important.
Despite this, only 52% of employees believe their workplace is mentally healthy compared to 76% for physical safety.
Only five in ten believe their most senior leaders value mental health
TNS 2014- State of Workplace Mental Health in Australia
In a study commissioned by Beyondblue and conducted by TNS in 2014, it was found that a "mentally healthy workplace was as important to Australian employees as a physically safe workplaces, however, workplaces are not meeting their expectations."
"A mentally healthy workplace is one that protects and promotes mental health and empowers people to seek help for anxiety and depression, for the benefit of the individual, organisation and community."
MHFA Australia workplace-based courses are evidence based and formally evaluated. They have been found to be effective in improving mental health literacy, reducing stigma and increasing helping behaviours. These
evaluations
were carried out in workplace and community settings.
There are other existing workplace mental health training programs that are aimed at building awareness of mental health problems in the workplace, to which the MHFA course is complementary. MHFA training differs from most of these other programs in that it focuses on skills-based training, not just awareness raising.
"While creating a mentally healthy workplace is everyone's responsibility, mental health is a leadership issue, and change must start at the top."
"Leaders play a critical role in driving policies and practices that promote mental health in the workplace."
"They have the capacity to positively influence workplace culture, management practices and the experience for employees."
TNS 2014- State of Workplace Mental Health in Australia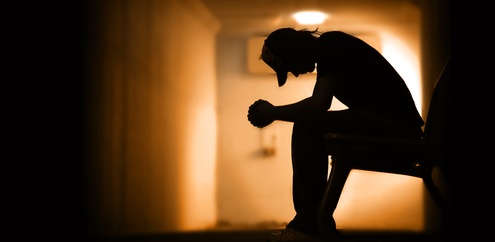 Advice on how to help an employee successfully return to work following depression, anxiety or a related mental health problem is available

here